November 10
@
7:00 pm
–
10:00 pm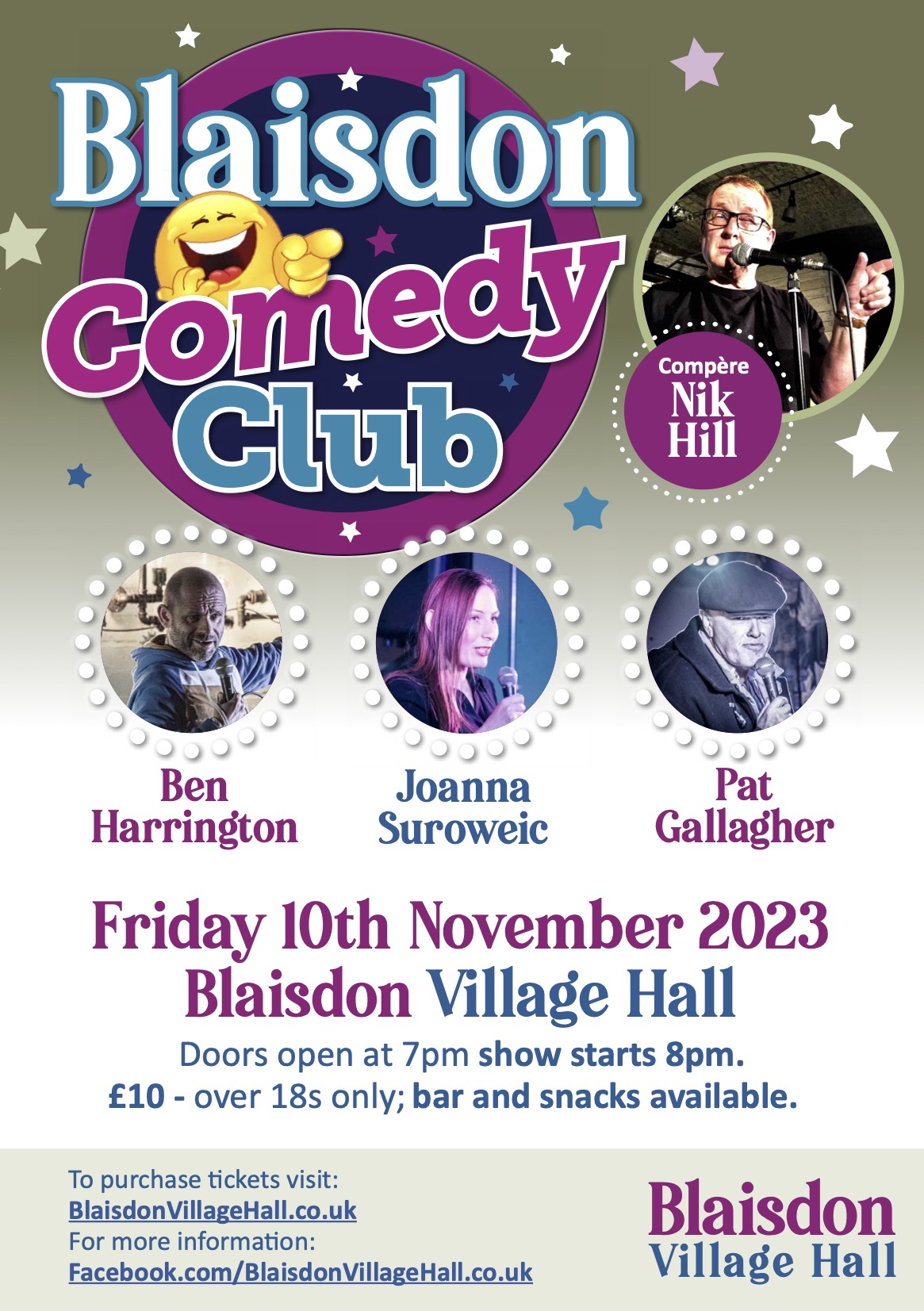 The comedy Gods promise to shine bright upon Blaisdon on Friday 10th November, when the Comedy Club rolls into GL17 with a line up direct from stand-up heaven.
Join Slapstico, Laughtor, Punseidon, Quipubis, Mirthuselah… and a trio of mic-ticklers, snatched from the circuit and locked in The Red Hart Inn cellar for a fortnight so they can add to tried and tested material guaranteed to give our postcode a roaring night out.
Seasoned compere Nik Hill introduces a troupe of comics bursting with gags, jokes, one-liners, real-life observations and side-splitting stories from these three veterans of the spotlight:
Ben Harrington
An established performer and one-time resident MC of Waterloo Comedy Club in London, which took him to his second Edinburgh show, "The Best of Waterloo Comedy Club". His wry look at the world, audience interactions and anecdotes centred around his family, ageing body and bizarre encounters make him a scream to watch.
Joanna Surowiec
Joanna generously shares her playful, self-deprecating humour with hints of darkness. Her stand up is a combination of one-liners and relatable personal stories we can all connect with. Through her observational comedy, she explores the joys and the ridiculousness of being a human in the UK.
Pat Gallagher
Pat is a well-respected stand up with a quirky take on the world. He loves a good row, and despite his laid back demeanour he can beat up on any rowdy room thanks to his experiences gigging all over the world. Expect storytelling, sketches, observational humour – or perhaps some burlesque.
Doors and bar open from 7pm, masters of mayhem onstage 8pm.
Tickets only available online direct from Blaisdon Village Hall website. Click this link to find out more: https://bit.ly/3sK0jGd
For more info or questions on accessibility, please email bookings@blaisdonvillagehall.co.uk
🤩🥳😁😂😅🥹😀🥰😋